About Us
M&O Perry Industries
Engineered for the World – Designed for You
Our story began in the late 1940s America when two pharmaceutical scientists in New York discovered how to accurately dose penicillin powder using vacuum and pressure. They called their discovery the ACCOFIL® principle. Thus, Perry Industries was born to manufacture their invention and automate the filling process. This highly accurate and efficient volumetric powder filling approach is used worldwide today in the industry.
In order to adapt to the fast growing and innovative industry where a single supplier is preferred, our capabilities have expanded to supply high speed filling lines from washing, sterilizing, liquid and powder filling, stoppering, capping, to traying of closed containers, i.e. glass vials, plastic bottles, SPE columns, microtubes, flush syringes, and nested syringes. Accordingly, our in-house capabilities include welding, machining, assembly, electrical/mechanical engineering, and testing.
We value our long-term relationships with customers, suppliers, and staff and are proud to have many of our employees in assembly, engineering, service, and sales departments with us for over 20 years. Every day we come to work knowing that we can contribute to the research of individual scientists as well as the production needs of the biggest established pharmaceutical companies. We appreciate our customers and strive to provide the highest level of customer service. As a result, we have been able to establish and maintain many long term relationships that have led to repeat business.
To find out what we can do for you, please check out our capabilities and contact us for any additional information.
Challenge us.
Your M&O Perry Team
Quality Policy
M&O Perry Industries, Inc. recognizes that customers are essential to our business success. The company is committed to the continual improvement of our products and to the design and manufacture of equipment for our customers that meets or exceeds agreed specifications. Therefore, providing related professional services allows our customers to maximize their return on investment.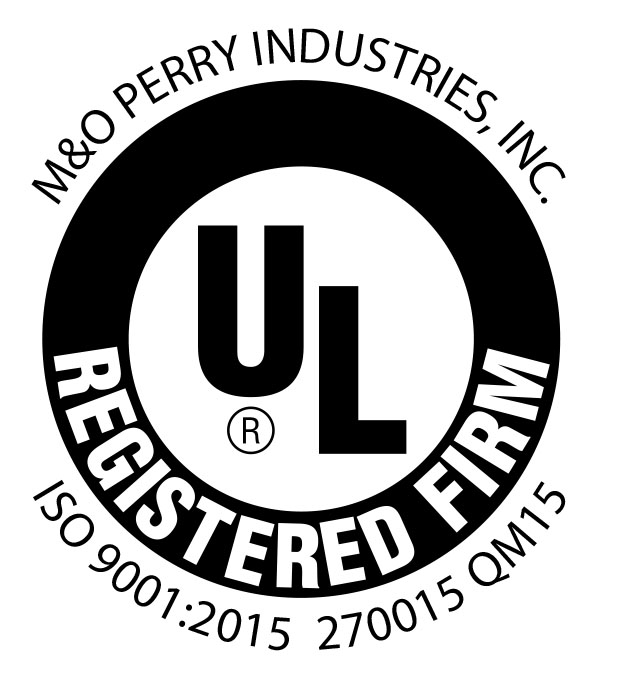 Our facility has been certified by UL DQS Inc. to the International Organization of Standardization ISO 9001:2015 Standard